Hestia Schools
Hestia Schools is a collaboration between the Hestia project and educational charity The Iris Project, which aims to produce and deliver accessible, exciting and interactive sessions about Herodotus for school audiences.
Hestia schools involves four distinct stages:
Designing workshops for schools to use Hestia's technologies to explore Herodotus;
Delivering these workshops to mixed ability classes in schools;
Collecting feedback on these trial sessions which will be used to improve the functionality of this website;
Creating a series of downloadable and deliverable resources for schools to use nationally and internationally.
'Travelling Herodotus's World'
This participatory workshop explores the historian Herodotus and the ancient world in which he lived and about which he wrote. Students learn about the origins of historiography, including the duty and responsibility of the historian. By using Hestia's interactive technologies, students are able to move beyond the written page to explore the geography of the ancient world.
We are now in the process of trialling this workshop in schools. If you would like to be involved in trials of Hestia Schools, please contact us via the following address: editor@irismagazine.org. After the trial, we will make our resources freely available on this site.
The Iris Project
Hestia Schools is a partnership with The Iris Project, an educational charity that introduces the languages and culture of the ancient world to UK state schools in order to enrich the curriculum. It was founded in the belief that the opportunity to learn about Classical languages, literature, histories and art should be made available to all, regardless of background, and that learning about these fascinating subjects can be a vital tool in promoting learning across the school curriculum in UK state schools. It runs a wide range of initiatives in state schools across the country, focusing especially on children in socially excluded inner city regions, and we also run projects which introduce Classics to adults in city communities.
The Team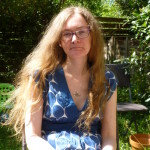 Dr Lorna Robinson: Lorna studied Classics at Lady Margaret Hall, Oxford University; she then completed a doctorate from University College London on 'Magical Realism in Ovid's Metamorphoses'. Her work explored the similarities between the Latin American magical realist movement and Ovid's poem, especially the ways in which magical themes are used to express political subversion.
After acclimatising herself to daylight again, she went into teaching. She created The Iris Project and Iris magazine to promote Classics in state schools in 2006, and runs Latin and Greek projects in state schools across the UK. She has also worked with UCL Bloomsbury Theatre and The Scoop on ancient drama projects, and set up 'Latin in the Parks' for adults to have a go at picking up Latin. She is currently setting up a new Community Classics Centre in east Oxford, which will open in October 2013.